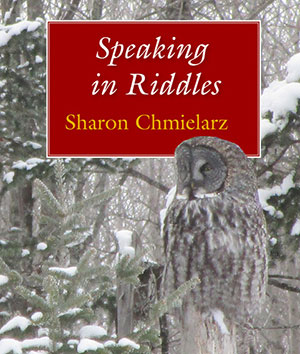 Sharon Chmielarz, poet and riddler
Nodin Press, 2021
Best known for her wry and subtle poems, Sharon turns her attention in a slightly different direction, to word-puzzles that actually have a solution—often more than one. The language is as pleasant and evocative as always, but the challenge is perhaps greater. Answers are provided in the back.
Sharon writes, "Half poem, half mind teaser, riddles are ancient and probably found in all cultures. They've always been amusements and distractors. I first encountered them at my grandmother's.
"I found a Mother Goose book in the trunk she used when she immigrated to the U.S. The book has seven riddles in it, and I thought they were the cat's pajamas. The book itself dates back to 1918, a gift from my Aunt Alma to her little sister Hilda. Interesting that that year was also in the time of a pandemic."
Challenge yourself with a few of the riddles from this book >
Midwest Book Awards finalist 2021