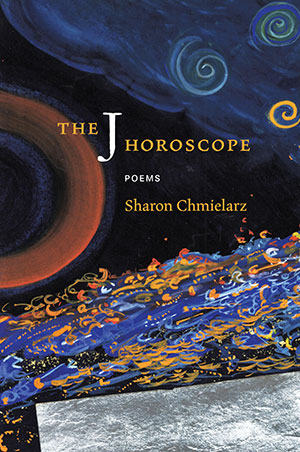 Brighthorse Books, 2019 
Look. A woman is writing on parchment, a scroll. We don't know her name. Her king, Solomon, has died, and the whole country's going to hell under the new king, Rehoboam. The year is 937 BCE. Banished from the ring of political power, she grounds herself by collecting the kingdom's ancient stories. Of the four writers in Genesis, J is the one who delivers the earthly creatures—Noah, Joseph, Jacob, Rachel, et al—and, to paraphrase Pogo, they is us. Her cast of characters includes the god Yahweh (or Jahweh) who can appear in various guises. She's named J for her intense interest in Yahweh's character.
hear Sharon read "The Boatman's Wife," in this video > 
I can tell you one thing for sure: you haven't read a book of poems like this before. Not ever. If you think you can handle a rewriting of human history—not to speak of human spirituality—from the J point of view, then welcome to the universe according to J. Is it a Biblical retelling? Yes. Is it an utterly contemporary view of twenty-first-century human nature, godly nature, and nature itself? Yes. Serious? Yes. Funny? Oh, yes. And, by the way, God can be a whiner. Vengeful. In the book's last poem someone called "The Host" appears. He or she could be God, I suppose. But actually, the host, it seems to me, is Sharon Chmielarz and she ends her wild romp through history and religion like this:
It is said, and much hoped to be true,
the host overlooked not one soul. Amen.
And the book does feel this way: as if not one soul—and certainly not one reader—has been overlooked. Amen, indeed. And thank you, Sharon Chmielarz. (Jim Moore, Underground, New and Selected Poems)
Thoughtful, bold, humorous, earthy, and humane—a superb collection. (Kirkus Reviews)