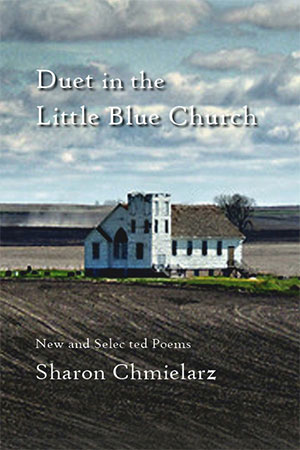 Duet in the Little Blue Church
Nodin Press, 2023 
Duet in the Little Blue Church is an engaging poetry collection but also an autobiographical record of one midwestern woman and her writing life, first learning craft as a late-starter, then developing and strengthening hopefully her style, voice, and interests in poetry's multiple leeways. 
I can tell you one thing for sure: you haven't read a book of poems like this before. Not ever. If you think you can handle a rewriting of human history—not to speak of human spirituality—from the J point of view, then welcome to the universe according to J. Is it a Biblical retelling? Yes. Is it an utterly contemporary view of twenty-first-century human nature, godly nature, and nature itself? Yes. Serious? Yes. Funny? Oh, yes. And, by the way, God can be a whiner. Vengeful. In the book's last poem someone called "The Host" appears. He or she could be God, I suppose. But actually, the host, it seems to me, is Sharon Chmielarz and she ends her wild romp through history and religion like this:
It is said, and much hoped to be true,
the host overlooked not one soul. Amen.
And the book does feel this way: as if not one soul—and certainly not one reader—has been overlooked. Amen, indeed. And thank you, Sharon Chmielarz. (Jim Moore, Underground, New and Selected Poems)
Thoughtful, bold, humorous, earthy, and humane—a superb collection. (Kirkus Reviews)